Equaversity Foundation announces 100,000 PLN donation to the Fund for a Change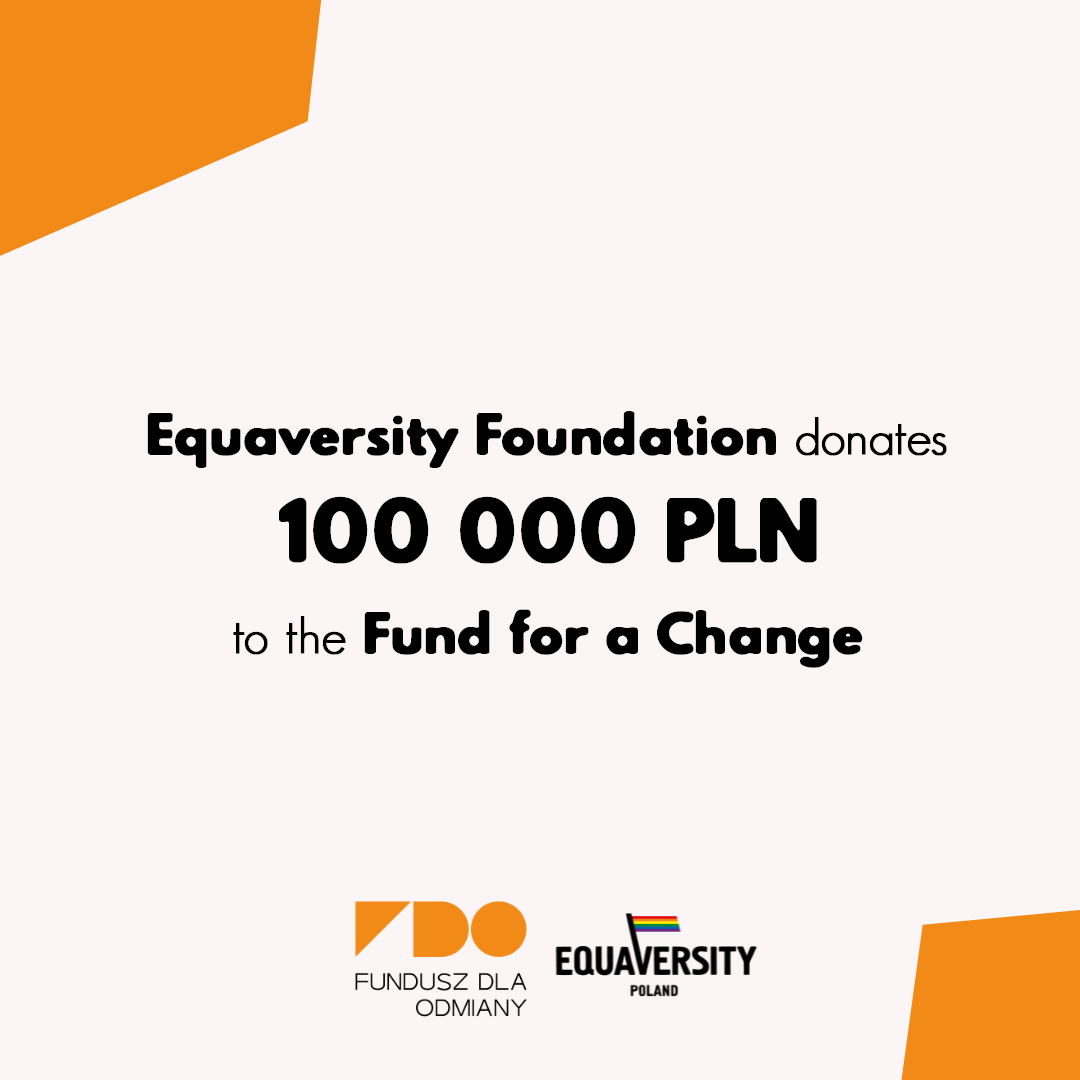 About Fund for a Change
The Fund for a Change is an LGBT+ organisation that provides funds, training, and assistance to NGOs, informal organisations, and people working in small towns and rural areas to promote LGBT+ acceptance in Poland.
The funding from Equaversity will be used to support two grant programmes:
1) Grant for a Change
2) Supergrants
What is the Grant for a Change?
Grant for a Change provides funding to organisations and groups that are working to create and enhance opportunities for LGBT+ communities in smaller towns and villages.
We want to live in a Poland where LGBT+ people feel fully at home no matter where their lives lead them. Up to 80% of Polish women and men reside outside of big cities, primarily in smaller towns and villages. That is why we need to encourage acceptance of our community out there.

says Ola Muzinska, the Fund's founder
What are Supergrants?
The Supergants are available to non-profit organisations (foundations and associations), as well as informal groups and individuals who have already successfully finished their projects with the support of the Fund for a Change.
Equaversity's worldwide efforts enabled us to support the Fund, and we strongly believe that this is only the beginning of our joint activities for the LGBT + community. We are extremely grateful for the generosity of all those who have contributed to our partnership. In the midst of so many global crises, our donors understand, more than ever, that the most important thing is a person. And everyone's human rights must be respected, regardless of sexual orientation or gender identity.

says Agnieszka Holland, a board member of the Equaversity Foundation
Applications for the first grant can be filed online at https://dlaodmiany.org.pl/mam-pomysl/ until October 30, 2022.
Assets:
1. The Fund and Eqaversity logo is available for download at: https://drive.google.com/u/1/folders/1aIlwSTEErahkN-SXG0d2ugjnvVpxHkIo
2. Watch the microdocumentaries about organisations and individuals that have benefited from past grant funding: https://tinyurl.com/KoloryNadziei